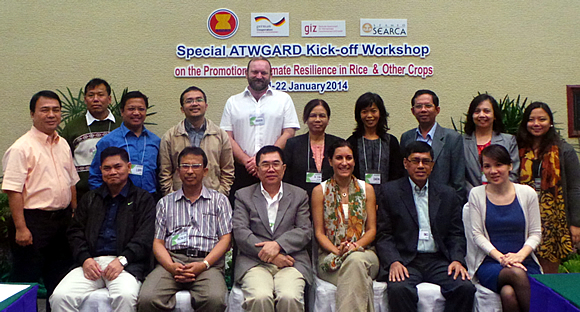 Standing: Dr. Romeo Labios, Dr. Outhai Soukkhy, Dr. Lope B. Santos III, Dr. http://gulfcoastretirement.org/admin/generic/ Perdinan, Dr. Khin Lay Swe, Ms. Imelda Bacuco, Dr. Men Sarom, Ms. Imelda Batangantang and Ms. Kristine Joy Villagracia. Seated: Dr. Teodoro Solsoloy, Dr. Rizaldi Boer, Dr. Attachai Jintrawet, Ms. Myriam Fernando, Dr. Felino Lansigan, and Dr. Do Lin Huong.
PATTAYA, Thailand – SEARCA facilitated the project's kick-off meeting
for the Association of Southeast Asian Nations (ASEAN)-German Programme on Climate Change (GAP-CC) funded project titled, ASEAN Network
on the Promotion of Climate Resilience in Rice and other Crops on 20 January 2014 in Nong Nooch Garden Resort, Pattaya, Thailand. GAP-CC aims to support ASEAN in further advancing the implementation of regionally coordinated strategies and policies for food security and climate protection within its Member States in agriculture and forestry sectors.
VIENTIANE, Lao PDR - The SEARCA graduate alumni have long recognized that climate change is a serious issue in the region as it affects smallholders and eventually food security. This was affirmed during the 1stRegional SEARCA Fellows Association (RSFA) Regional Conference on Food Security and Climate Change with the theme "Enhancing smallholders capacity towards food security and climate change adaptation in Southeast Asia" on 4-5 December 2013, which was hosted by the National University of Laos (NUOL) at Don Chan Palace Hotel, Vientiane, Lao People's Democratic
Republic.
Thirty four participants composed of SEARCA graduate alumni from Cambodia, Indonesia, Lao PDR, Malaysia, Thailand, the Philippines, Timor Leste and Vietnam, along with NUOL, SEARCA, and University of the Philippines Los Baños (UPLB) officers and staff attended the regional conference.
The activity, which was an off-shoot of the SEARCA-DAAD Alumni Associations Regional Consultative Workshop on 28-29 May 2013 at SEARCA, Los Baños, Laguna, Philippines (see related story), provided the venue for SEARCA's graduate alumni to share and exchange research and extension initiatives and other best practices towards building capacities of smallholders in attaining food security and climate change adaptation in Southeast Asia.
http://paris-canaille.org/acheter-cialis-10mg/
Seated from Right to Left: Dr. Jaime Aristotle B. Alip, Founding President and Managing Director of the Center for Agriculture and Rural Development Mutually Reinforcing Institutions (CARD MRI), Dr. Maria Celeste H. Cadiz, SEARCA Program Head for Knowledge Management, H. E. Hab Omaly, MRD Undersecretary of State, Dr. Pheak Sothea, Director of the MRD - Department of Rural Economic Development, and Dr. Lope B. Santos III, SEARCA Program Specialist and OIC for Project Development and Management. Mr. Camilo Casals (standing, fourth from right) is an Adviser for Business and Organizational Development.
PHNOM PENH, Cambodia – SEARCA provided technical assistance to craft the Rural Entrepreneurship Development Program (REDP) of the Ministry of Rural Development (MRD) in Cambodia. The stakeholder consultation workshop was conducted at the Hotel Cambodiana, Phnom Penh, Cambodia from 20 to 21 November 2013, with 22 participants from MRD, non-government organizations (NGO), and related stakeholders in Cambodia.