With the theme "Food Security, Poverty Reduction and Climate Change Adaptation towards Sustainable Agricultural Productivity in Southeast Asia," the conference focuses on knowledge sharing of initiatives towards the capacity building of small-holders in attaining food security, poverty reduction and climate change adaptation.
DOWNLOAD Registration form here
For further inquiries, contact: The Conference Secretariat ( This e-mail address is being protected from spambots. You need JavaScript enabled to view it )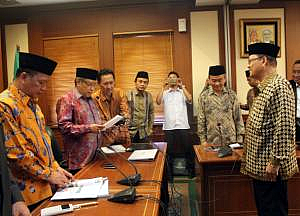 Another SEARCA alumnus has been appointed as a university chief executive in Indonesia. Prof. Dr. M. Maksum Mahfoedz (PhD and MS Agricultural Engineering, 1985-1989, 1982-1985) was officially sworn in as the new Rector of the University of Nahdlatul Ulama (UNU) Indonesia by General Chairman of Nahdlatul Ulama (NU), Prof. Dr. KH Said Aqil Siroj on 10 July 2015. The elected rector Prof. Dr. Maksum said he envisions UNU Indonesia to become an outstanding university and the melting pot for the academic world, Islam, nationality, and struggle. "My attitude is sami'na wa atho'na, and will manage the UNU Indonesia based on the principle of collectivity or unity by effacing the ego position," he furthered.
Prior to his new appointment, Dr. Maksum was a professor at the Faculty of Agricultural Technology at the Universitas Gadjah Mada. He also served NU in various capacities including Chairman of the Central Board for five years. Dr. Maksum finished MS and PhD in Agricultural Engineering from the University of the Philippines Los Baños in 1985 and 1989, respectively.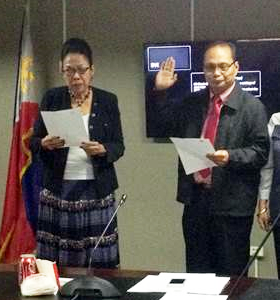 Dr. Rolando A. Delorino (MS Environmental Studies, UPLB 1986-1988) was appointed by the Philippines Commission on Higher Education (CHED) as the 6th President of the University of Eastern Philippines (UEP). Dr. Patricia B. Licuanan, CHED Chair, administered the oath in August 2015, after the Governing Board members of UEP voted unanimously in favor of Dr. Delorino. Within his term as President, Dr. Delorino aims to "enhance the relevance of UEP's academic, research and extension programs in the light of national development thrusts and international standards; strengthen the University's resource generation capacity in order to provide sustained support for the viable implementation of new and existing academic, research and extension programs, systems, procedures, and resources, in keeping with national thrusts on moral ascendancy; and broaden access to the University's quality programs and services by the students, especially the poor but academically deserving, and the community."
Prior to his appointment as UEP's chief executive officer, Dr. Delorino was the university's Vice President for Research and Extension. After completing his MS, Environmental Studies under the SEARCA scholarship in 1988, he took the PhD in Education (major in Education Management) at UEP.